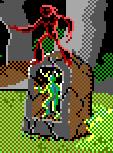 Widdershins is a
forest sprite
that inhabits the bronze shrine of
Cernunnos
. Widdershins became obsessed with making bronze, an alloy of copper and tin. Though not a troll, he asks for copper or tin as a toll for safe passage through the
Forest Perilous
on the way to
Glastonbury Tor
. The
Hunter
had it occupied with flakes of tin.
He plays tricks on those who do not pay his toll.
"Copper or tin! Copper or tin!
Copper or tin for Widdershins!
I am no troll but that is my toll!
Copper or tin for Widdershins!"
―Widdershins
"Single-minded creature. Isn't it?"
―Merlin, when the player ask widdeshins about anything
If the player leaves without paying, the sprite will steal his purse. As a consequence, he won't be able to buy the boar spear from the Hunter, and will be killed by the boars soon after.
Ad blocker interference detected!
Wikia is a free-to-use site that makes money from advertising. We have a modified experience for viewers using ad blockers

Wikia is not accessible if you've made further modifications. Remove the custom ad blocker rule(s) and the page will load as expected.