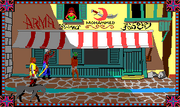 The
Thief
was a regular of the
Street of David
in
Jerusalem
. When King
Arthur
entered the city from the
Jaffa Gate
, the Thief was outside
Mohammed
's shop and quickly ran towards Arthur to steal his
purse
. The Thief ran towards the alley where he climbed a hanging rope waiting for him and Arthur was unable to follow him further. This event alerted the authorities; the Jaffa Gate was blocked and guards patrolled the street.
The Thief however found his way to the Temple of Aphrodite. Right when Arthur discovered the Holy Grail, the Thief snatched it from his hands, and once more ran for his exit; but this time the rope broke and fell down, left to Arthur's mercy. Arthur magnanimously just took the Grail and left. But the unthankful Thief tried to stab him in the back, only to be stopped by Arthur's armor. Merlin and Arthur then left the Grail to decide; it applied its doom to him.
Behind the scenes
Edit
Arthur can follow the Thief right after he steals his purse; he will be led to the alley besides Ibrahim ibn Bushir's shop and the Thief will vanish.
If the player fails to buy the Apple of Truth, the game is unwinnable. As a resolve, the guards will kill Arthur mistaking him for the Thief.
When the Thief steals the Grail and Arthur won't follow him, after some time passes, Merlin will say that the Grail is lost for ever. Arthur then will kill himself by falling on Excaliber.
When Arthur catches the Thief and gets the Grail, he can kill the Thief; however showing mercy will grant 5 Soul points. However the Thief will betray Arthur's magnanimosity and will eventually die by the Grail.
Ad blocker interference detected!
Wikia is a free-to-use site that makes money from advertising. We have a modified experience for viewers using ad blockers

Wikia is not accessible if you've made further modifications. Remove the custom ad blocker rule(s) and the page will load as expected.