The name Al-Uzza (meaning "Powerful One") was the title of an Arabic Goddess associated with the founding of Mohammed's tribe.
It was also the name of a ship docked in Southampton bound for the Far East, by way of Malaga, Tunis, and Alexandria, and finally Gaza.
Weary days and nights march on. A storm catches the ship and you are forced to lend your strong back to the efforts of the crew to save themselves.
Huge waves crash across the decks. You barely save your mule, but your pack and nearly all your belongings are washed away.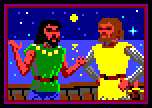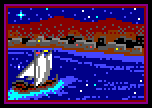 You join the crew in sharing several rounds of wine as they wait for the tide to change so they may enter Gaza port.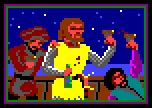 The wine flow freely after such a long and arduous journey. Soon, you fall into a very deep, dreamless sleep.
Ad blocker interference detected!
Wikia is a free-to-use site that makes money from advertising. We have a modified experience for viewers using ad blockers

Wikia is not accessible if you've made further modifications. Remove the custom ad blocker rule(s) and the page will load as expected.